Your primary suite can be a beautiful and relaxing space while also providing function for your every day. In our Justin Gray Homes we include designer details to make your primary suite one of the most luxurious places in your home. We create beautiful spaces for elevated living.
Large Space
Your primary suite is a bedroom for up to two people and requires a good amount of space to allow for you and your partner to comfortably move about the room. The primary suite tends to be the largest bedroom in the home, and has extra amenities to make it a luxurious haven for its owners. A large walk-in-closet provides more than enough room for you and your partner's wardrobes. It's a comfortable dressing room to get ready in the morning, and features built-in storage to help you organize all of your clothes.
Part of a large primary suite not only covers square footage it can also speak to the height of the room. We love including vaulted ceilings in these rooms to show off the designer chandelier, typically a beautiful chandelier to complement the lighting package throughout the home.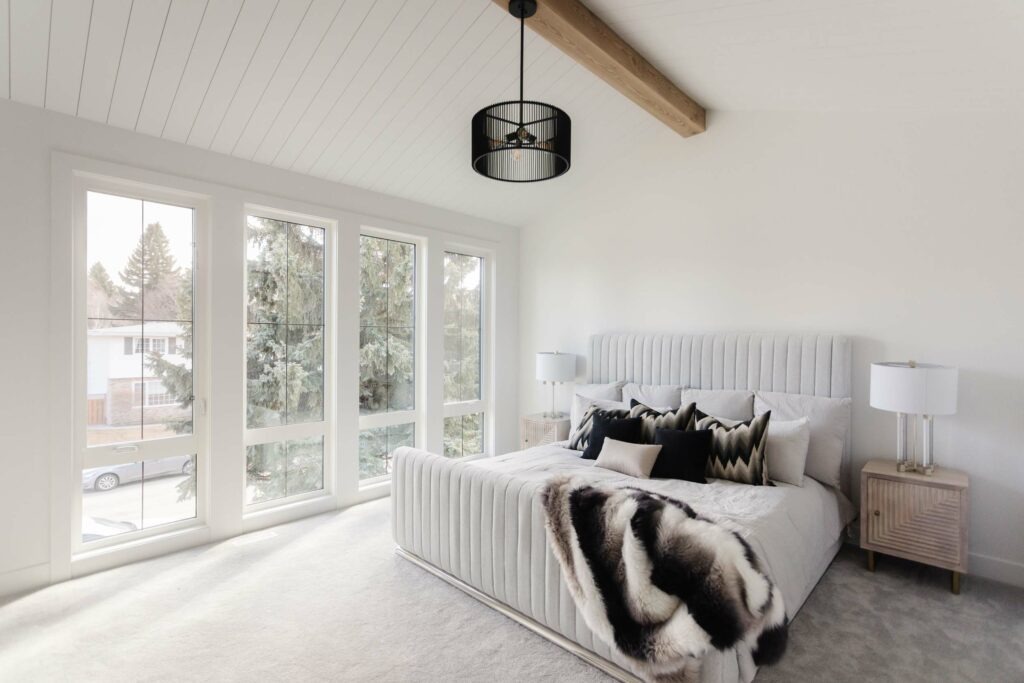 Five-Piece Ensuite
Nothing says luxury more than an amazing five-piece ensuite! A large dual sink vanity with counterspace features enough storage to hold all of your toiletries. A space to sit down provides an area to do your hair or makeup. Relax in a large soaker tub, take a shower with the overhead rainfall showerhead, or even have a steam where some homes feature a steam shower/tub combo!
Bringing the Outdoors In
Natural light streaming into your bedroom adds to a relaxing environment. Through floor-to-ceiling windows you can bring in the beautiful, tall trees right outside your infill home. This is one of the benefits of building in a mature community! Even better yet, add a private balcony off your primary suite. The perfect place to welcome the morning or have a nightcap.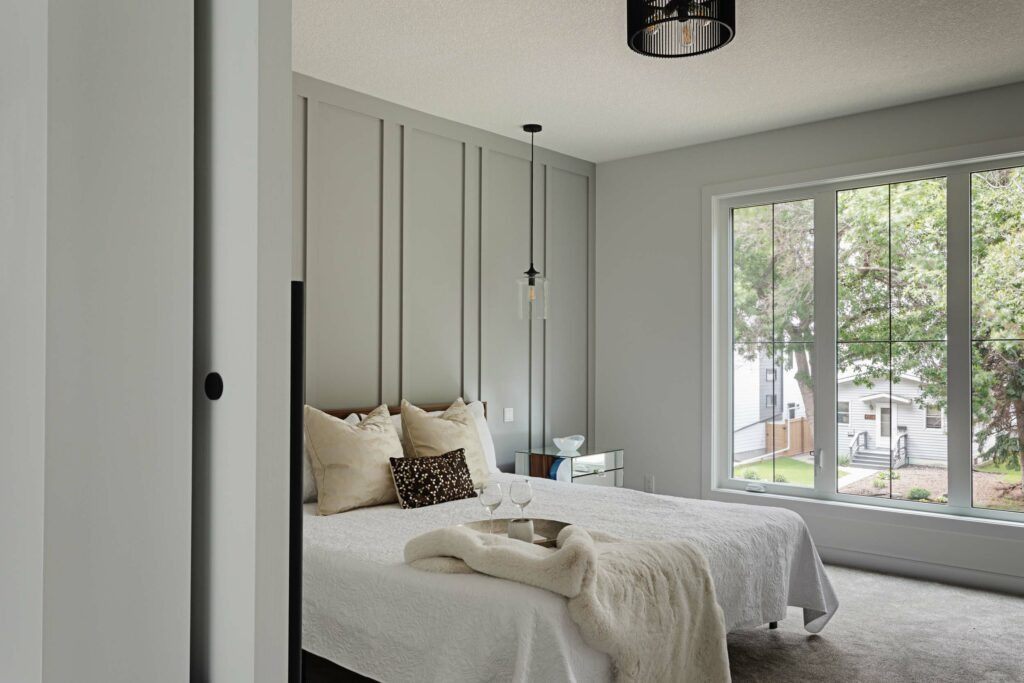 Special Features
Extras that elevate your space include features such as a wet bar! Brew your morning coffee to enjoy while you're getting ready, or pour yourself a nightcap to finish off a long day. Chill your wine in the wine fridge, and wash up at the sink.
Another feature to add to a cozy atmosphere is a gas fireplace! It not only provides added warmth to your bedroom, it is a comfortable place to curl up and read a book. Looking to elevate your space even more? Make it double-sided! With one side facing the bedroom, the other size can conceal your wet bar and sitting area.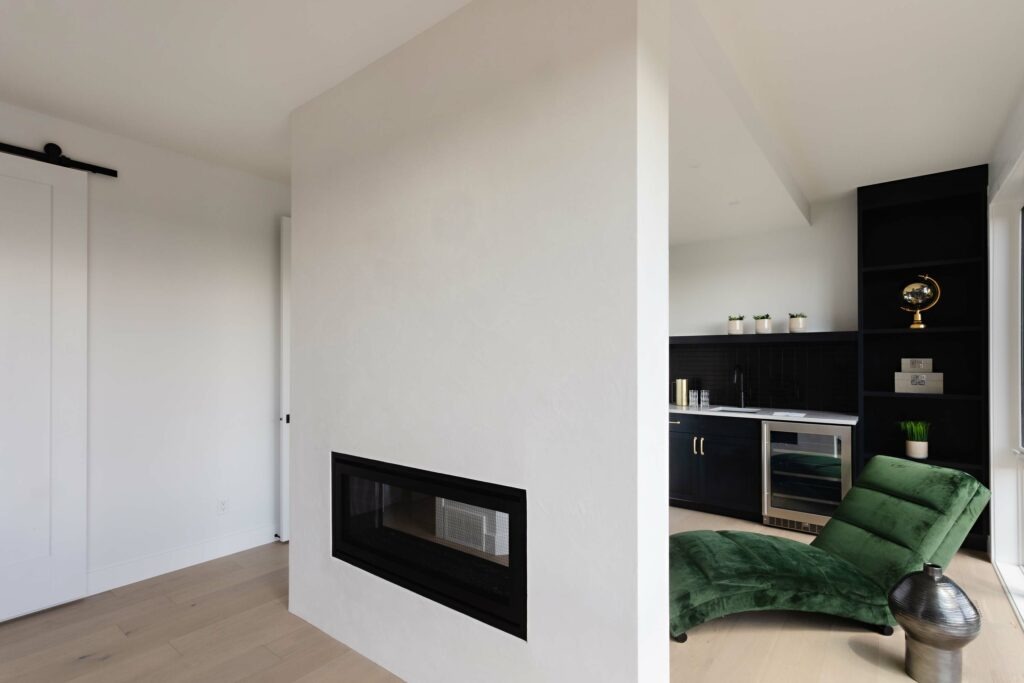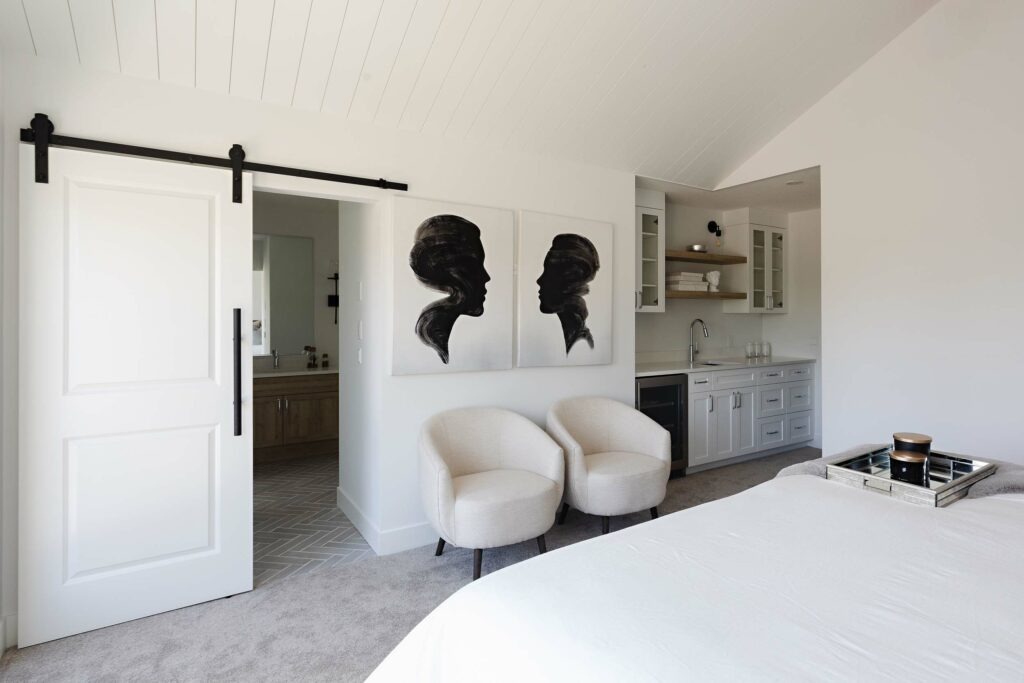 All of these added elements truly make for a luxurious primary suite. You work hard, so why not treat yourself with a beautiful, designer space created just for you! If you're looking to build a new home and customize your primary suite, contact us for more info.