We've all heard it, the kitchen is the heart of the home. It's so important to make sure that the function and flow of your kitchen works for you and your family. While you're at, why not make it a stylish space with luxury details that also have added functional elements to make it a designer room in your home!
Kitchen Triangle Rule
This rule ensures that the primary tasks you perform in your kitchen are done with ease. The working areas being the stove, refrigerator and sink, are all placed no more than nine-feet from one another to allow for seamless movement without obstruction.

Appliances
Every kitchen is built to be a chef's dream, and in order to create that space we include a top of the line appliance package. Kitchenaid appliances are chosen for the refrigerator, dishwasher and of course, a gas range stove! A custom hood fan is designed to create a beautiful focal point in the room while serving to ventilate the space while you cook. The refrigerator is selected at counter-depth to ensure it fits seamlessly amongst the cabinetry and counters.
Luxury Finishes
Your Justin Gray Home has Better Built elements included within the walls but also in the luxury finishes selected for your home. High-end quartz countertops are not only beautiful in design as they mimic natural stone, they are also highly durable and very easy to maintain. Backsplash tile is a stylish addition that is easy to keep clean while preventing staining or damage to your walls.
Custom cabinetry is designed specifically for your space, and features stylish door panels to complement your home's interior. Added thought went into areas such as the strong structure of the dovetail drawers for added quality and longevity in these high-use spots. All cabinets and drawers are finished with stylish hardware that matches the metal details throughout your home. A high-end Moen faucet ties into these metal details.
All finishes in your kitchen and home are carefully curated by our interior design partner to ensure a cohesive and stylish space that complements the interior design flow of your home overall.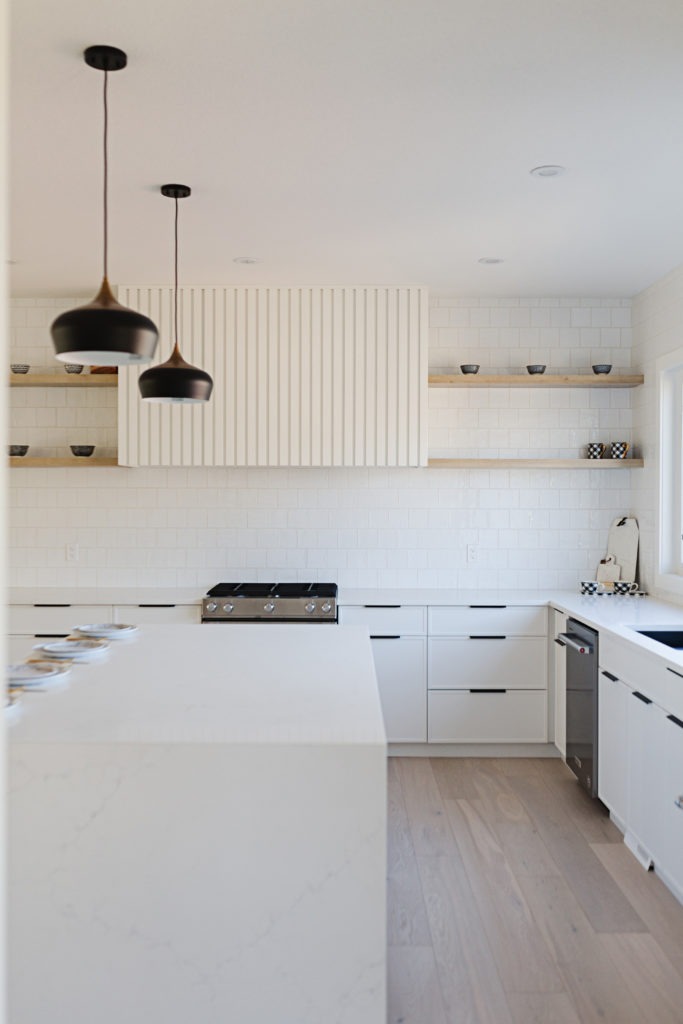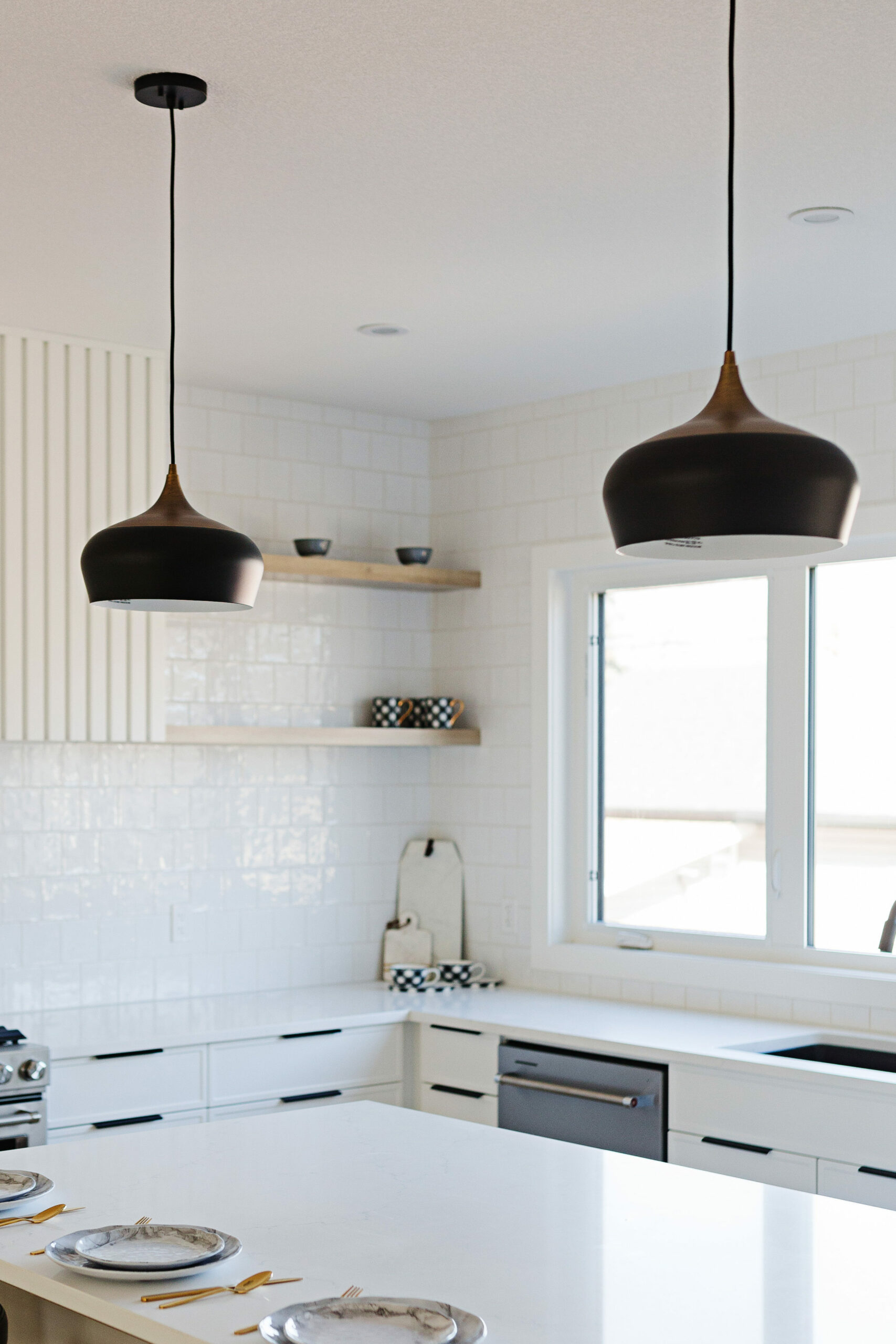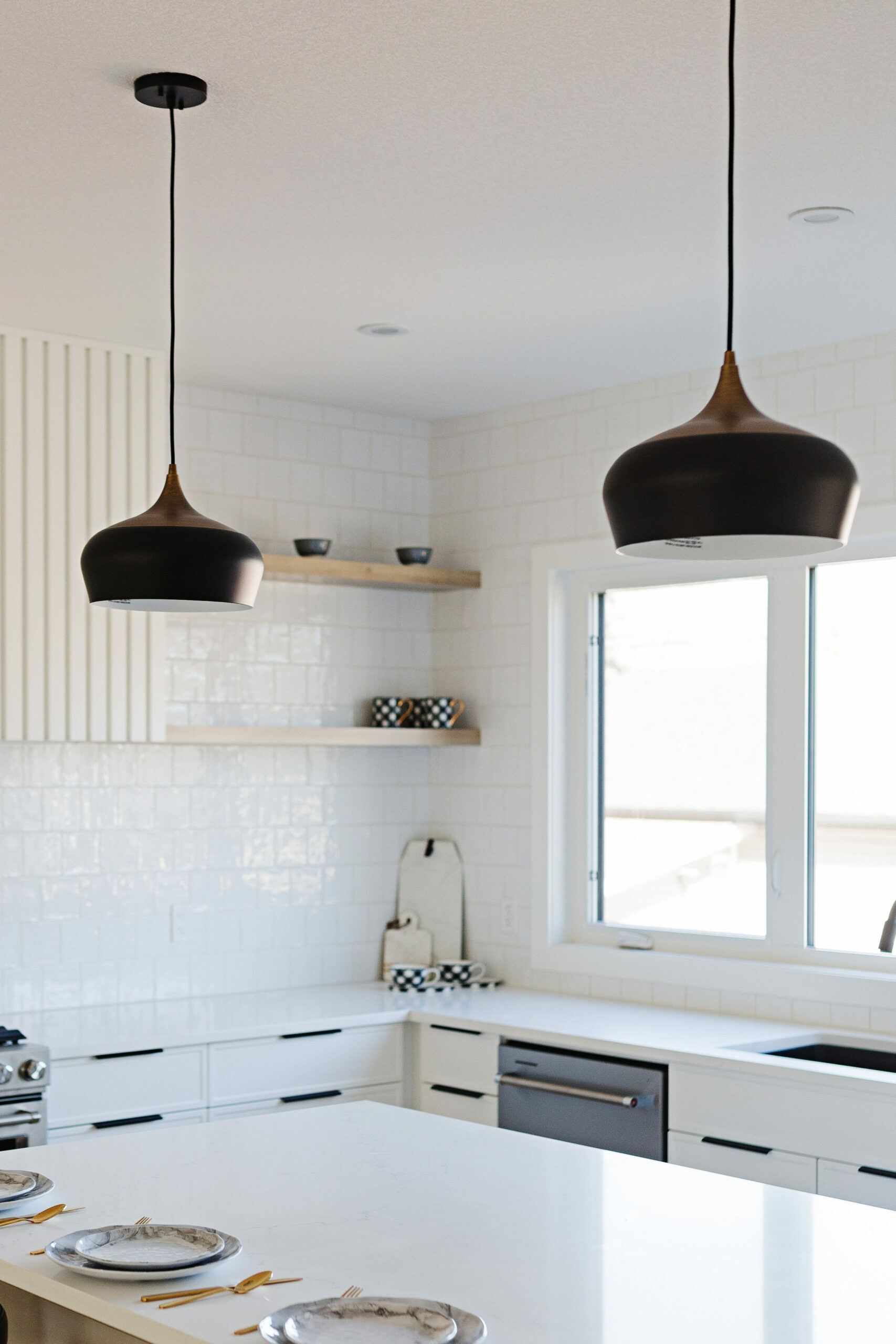 Lighting
The lighting with your kitchen is designed to serve different purposes. General pot lights are placed throughout to brighten your workspace. Above the kitchen island you also have stunning pendant lights that tie into the interior design of your home, matching the metal details throughout. Not only are the pendant lights attractive in design, they create ambience to establish a comfortable environment while also serving as task lighting to illuminate your eating and workspace at the island.
The Island
An island in the kitchen is always a must in every one of our homes! Base cabinets provide added storage space while the countertop serves as preparation space while preparing meals. An eat-up bar allows for casual seating in the kitchen, or a space for guests to sit close to the chef. Hosting a party? The island is an excellent space to lay out appetizers, a buffet, or bar!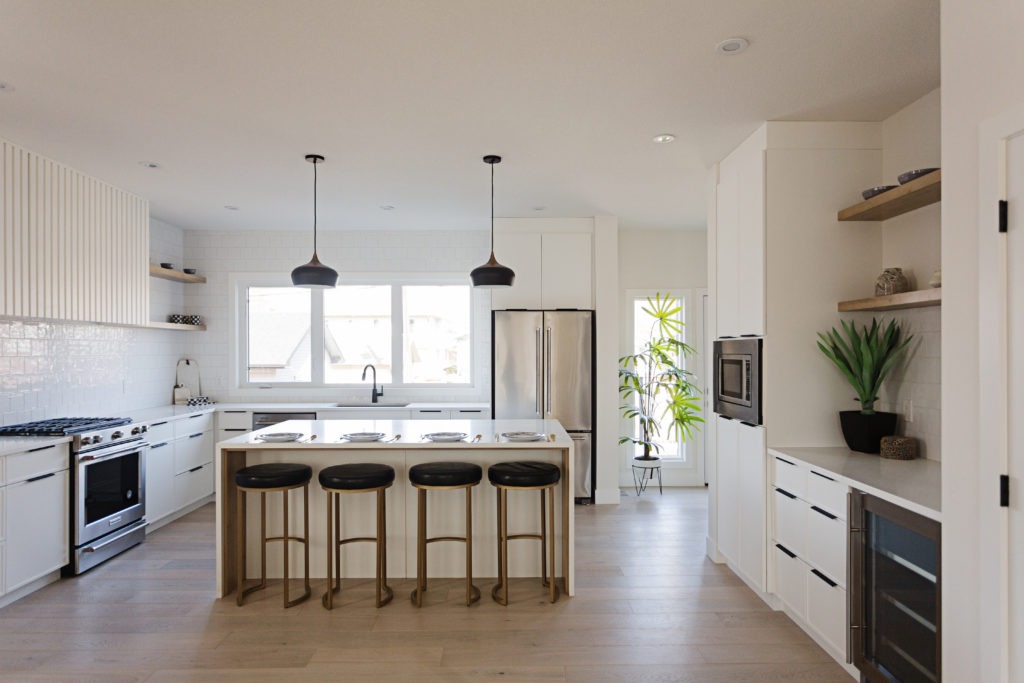 Unique Features
We try to add special features to your kitchen where possible. Some kitchens feature a coffee bar with a wine fridge, great for morning's before work and a post-work drink in the evening. Open floating shelving creates a place for you to display dishes or knick knacks to show off your style. A pantry provides an extra storage space for dry goods, and at times a butler pantry is a hidden gem in your kitchen if you wish to food prep out of sight from your guests!
Windows
Natural light is a must in each of your homes! Many of our homes feature the sink at the rear of the home with a window that overlooks the backyard. This is a functional addition so that you have visuals outside, especially if your children are playing out back. If you have a green thumb and you're looking to grow herbs indoors, this can also be a great space to do so!
Your kitchen is a space where you gather and create memories with your family. Whether you're baking with your children or cooking a romantic meal with your spouse, it truly is the heart of the home. It's meant for those busy mornings making grab and go lunches, or evenings setting out an appetizer spread at the island when hosting friends and family. Upgraded elements included in the kitchen of your Justin Gray Home enhance the value of your house and can truly set the tone of your home as a whole.
To learn more about the other Better Build elements included in your Justin Gray Home, click here.